Ever since the Ivan Hlinka Memorial Cup has been based in Břeclav and Piešťany, there has been friendly competition between the two venues. With the host of the final not known until the last minute, both venues can stake a claim to being the true host of the tournament, but both the Zimní stadion města Břeclavi and EASTON Aréna Piešťany can be relied upon to provide a suitable venue for top class hockey.
While the arena in Břeclav can boast a larger capacity than the EASTON Aréna Piešťany, the latter can boast a larger ice surface. Both of the venues can claim a long tradition of putting on the Ivan Hlinka Memorial Cup, but in recent years, reconstruction efforts by both arenas mean that fans can view top quality hockey in comfortable surroundings.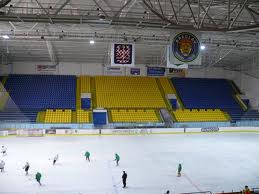 Zimní stadion města Břeclavi
Arena name: Zimní stadion města Břeclavi
Address: Zámecké náměstí 2, 690 02 Břeclav
Capacity: 4039 seated, 50 standing
Ice surface dimensions: 59.5 m x 29.5 m
Ever since its completion in 1972, the Zimní stadion města Břeclavi has never been complacent, and the arena in Southern Moravia has consistently over the last twenty years taken every necessary step to providing a top quality hockey venue. Eventually, by the spring of 2009, after forty years of construction work, the hard work of the venue owners in Břeclav was rewarded, as the arena hosted a number of games in the IIHF Under-18 World Championships, held in the Czech Republic in 2012.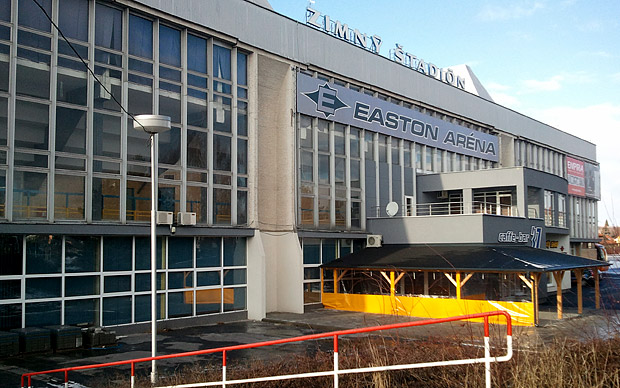 EASTON aréna
Arena Name: EASTON Aréna Piešťany
Address: Hlboká 92, 921 01 Piešťany
Capacity: 3,500
Ice surface dimensions: 60 m x 30 m
The construction of Piešťany's ice rink was completed in late 1986, just in time for the IIHF World Junior Championships. It played host to the famous 'Punch up in Piešťany' between Canada and the Soviet Union at the 1987 edition of the World Junior Championships. However, despite this, Piešťany has been a consistent host of IIHF events. The arena in Piešťany has undergone major renovation works over the last few years, with the dressing room, scoreboard, Zamboni and lighting all being replaced and improved. Previously, Piešťany's rink was known as the 'Patricia Ice Aréna', however, since 2009 it has been called the EASTON Aréna.